—
UNDERSTANDING
YOUR SKIN
—
– THE SCIENCE OF YOUR SKIN –
The epidermis, the outer skin layer, is our physical barrier. A healthy epidermis stops any pathogens from getting in and keeps moisture from escaping, assuring the skin stays healthy and hydrated.

The dermis, which is up to 40 times thicker than the epidermis, is responsible for strength and elasticity. It is comprised mainly of collagen and elastin.



The dermal epidermal junction, or grenz zone, is a layer between the epidermis and dermis which allows nutrient exchanges between the layers to feed a healthy epidermis.

Skin cells, or keratinocytes, originate in the bottom or basal layer of the epidermis. These cells then migrate to the epidermis surface, the stratum corneum, and come off in scales or flakes in a process called desquamation.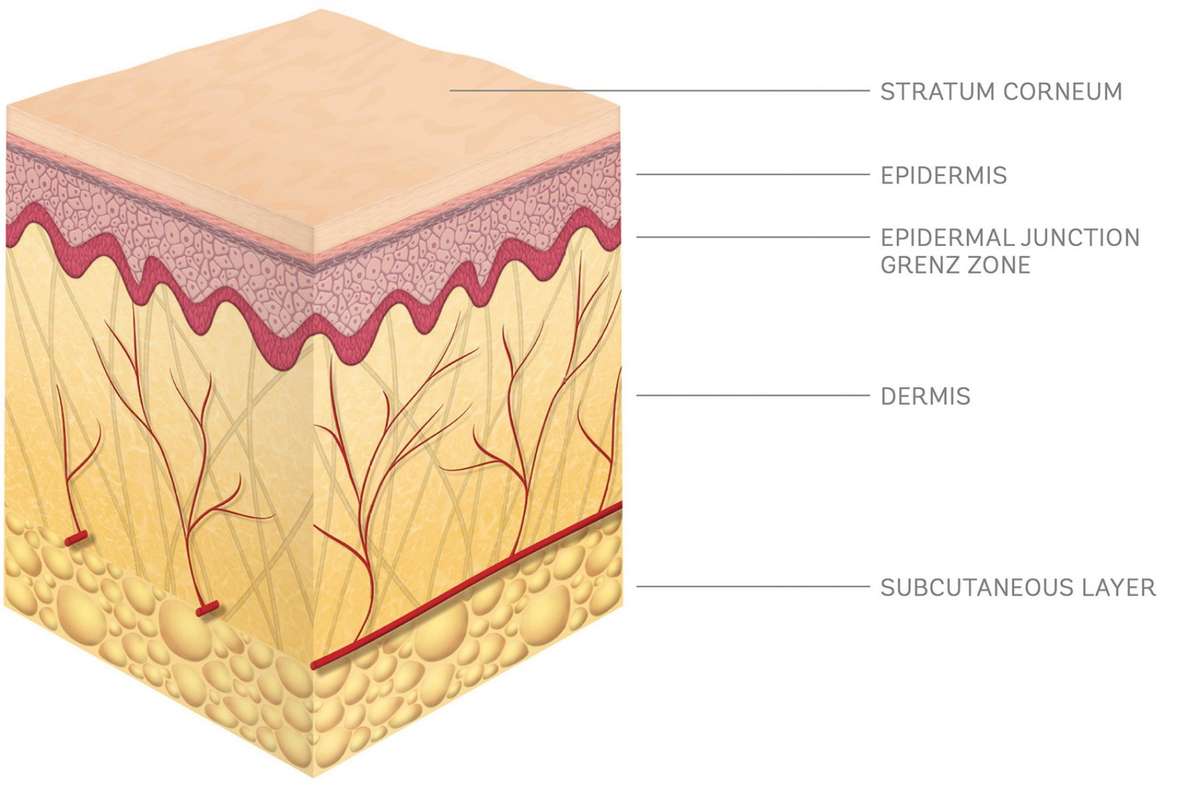 WHAT HAPPENS TO OUR SKIN AS WE AGE?

The skin cell cycle slows down. Dead cells collect on the surface, dulling the skin. The grenz zone flattens and cannot properly feed a healthy epidermis, creating further dullness and thinning the epidermis. Our ability to produce and maintain collagen decreases, breaking down the dermal layer, which provides structure and strength.

This process is natural and everyone goes through it. So why do some people look like they never age? The first part of the solution is very simply the right skin care. Your skin can be beautiful, healthy and vibrant.


WHAT IS THE DIFFERENCE BETWEEN INTRINSIC AGING AND EXTRINSIC AGING?


Intrinsic aging is caused mainly by internal factors alone and can include hormonal changes and metabolic slowdown.

Extrinsic aging comes from external factors such as environment, ultraviolet radiation, air pollution, smoking, diet and others.

The good news is that the proper skin care can help your skin look and feel younger.
HOW DOES AGING LEAD TO FREE RADICAL DAMAGE?


A free radical is a molecule with an unpaired electron, making it very unstable. It attacks healthy cells to take their electrons, causing a cascade of harm: it damages cells, breaks down collagen and causes uneven skin tone. These are the visible signs of aging skin.

Antioxidants like Vitamin C donate one of their extra electrons to help stop free radical damage in its tracks.